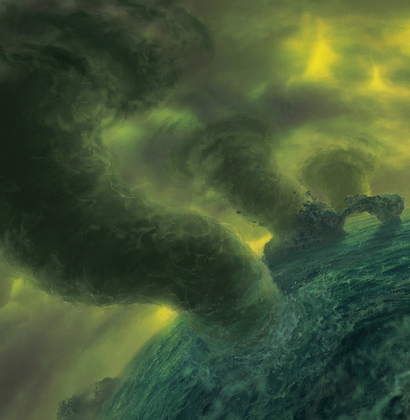 Mother and Father told me. That we are destined for Greatness.
That through the air, we will sink below. To our Creator's depths.
But they never meant Yama.
It leaves me to wonder, who am I? What am I? Where am I to be.
My kin sing praises of the Landwalkers.
The people that aided Inki.
The people that ensured my Patron would drown.
The people that, poisoned waters. Killed our people.
Forced Yama to give us legs to walk on dreaded land.
Gave him the time to plot.
They didn't even stop the war.
It was their land-walking Gods.
To Yama.
That forced them to.
Some have earned this praise. Some... Have shown me. That not all Landwalkers are damned.
I write 'some'. But It has only been two. Through action, he gave. Even when I was cruel and harsh.
Through action, she gave, when she could take. Cleared my mind. Helped my thoughts.
But every time I speak to one of my own.
I am the villain. For hating them.
I am the... 'Bad Person'.
Because I know they owe us.
Because they took from us.
No good comes from relying on Landwalkers.
But my thoughts should not matter.
As long as my kin know I care.
My Clan used to say, we are kin. Together. Regardless of thoughts, beliefs, or in-fighting.
We love one another through it. That true friendship, true kinship.
Is to show that one truly cares through actions. Not words.
I proffer words. I proffer kindness. I give. Freely.
Of myself. My materials. My gathered coin.
The other, she despises it.
I will not sway my faith. Because it upsets.
It is true. I know I am right.
It is. Fine. That they are afraid.
And hide. Behind. Those that..
Sometimes. I wonder. If I should.
Have replied to that letter proper.
I would see my Clan again.
My brother. My mother. My father.
If they do not even want me.
If it is such a struggle.
I am not my mother, my father.
I swear I'm not...


I'm not owned guys.