Spriting! A great way to get your own look in E3
This is a guide to help you learn how to use the tools given out. As well as a general spriting guide.
For now, I'm just starting off with hats & hair, as they are the simplest.
First you'll want to go ahead and get the eternia sprite tool from
here.
Once you have that, open up head_template in your editor of choice. Paint.net, gimp, whatever. I prefer Aseprite, but that costs money.
So, that will leave you with something looking like this.
The first step you'll be wanting to do is getting a palette going. So, find the colors you want, build yourself a palette with multiple shades for each of them...
And use the darkest ones to build the outline on a new layer. For now however, I'm just making a blonde hair. Once you've got the outline, go ahead and fill it in with a more middling color.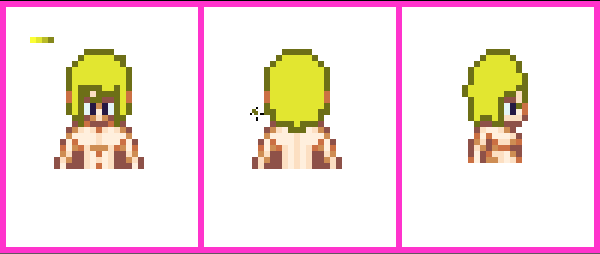 Now then, it's time for shading!
In Eternia, generally for spriting, the light is above the characters, and ever so slightly to the left. So your darker shades will be on the bottom and somewhat more to the right. And you will be putting the highlights in on the upper left. However! Keep in mind the shape and texture of what you are spriting. We don't want gradients!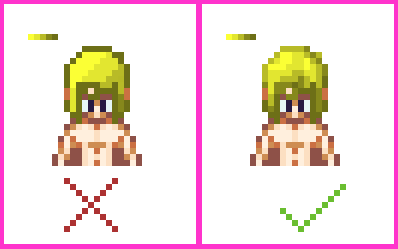 I find it easiest generally to start with the darker colors and work my way on up. Generally, you will also want to keep the outline a darker than the colors it is touching as well, but feel free to change it as suitable. Anyhow, now that you have that all done, go ahead and take the entire layer with the hair/hat... And make a new image with it. Save that image as a png with a clear backround for less work later!
Alright, now you'll go ahead and bootup that eternia sprite tool, and with it, select your hair sprite, just hit save results. And be sure to add .dmi at the end.
Once you've done that, open up that dmi. Go in, copy a frame to use as a ui. Now, click the plus in the top left and rename the new state UI. If that isn't done, it'll be invisible in your inventory once it is in game.
I always recommend giving it any needed touch ups however now. Working on it zoomed in too much can make the shades seem further apart than they are and seeing it in game can really help you realize any needed adjustments.
In any case, have fun!